Oh, my cod
--
Type: Fictive company
Designed by: Matilda Strandberg, Anny Follesøy, Subin Hwang
Year: 2019
This project was inspired by Libe Aranguren Abadía, a PhD candidate in the environmental toxicology group at the Department of Biosciences. She contacted our school with a desire to work with design students to help her communicate her research on Cod.

She identified a desire to experiment with new methods of dissemination, but did not have any specific clarity on what form this could take.

Oh My Cod is a fictional company, created as a movement to raise awareness and create a debate on chemicals and their journey from us humans, to the sea and it's creatures. With this project we want to create a debate on chemicals which pollute the sea environment, and give impact to make people remember this problem.

We came up with some products that corresponded with the theme we chose. Condom as an alternative to pills, menstrual cup as an alternative to pads and tampons, and a vibrator to encourage safe sex. The target group became mostly young people, because we thought social media (instagram and pinterest) would be a good way to market this. Instagram would specifically be a good place where we could share our products and the story behind them.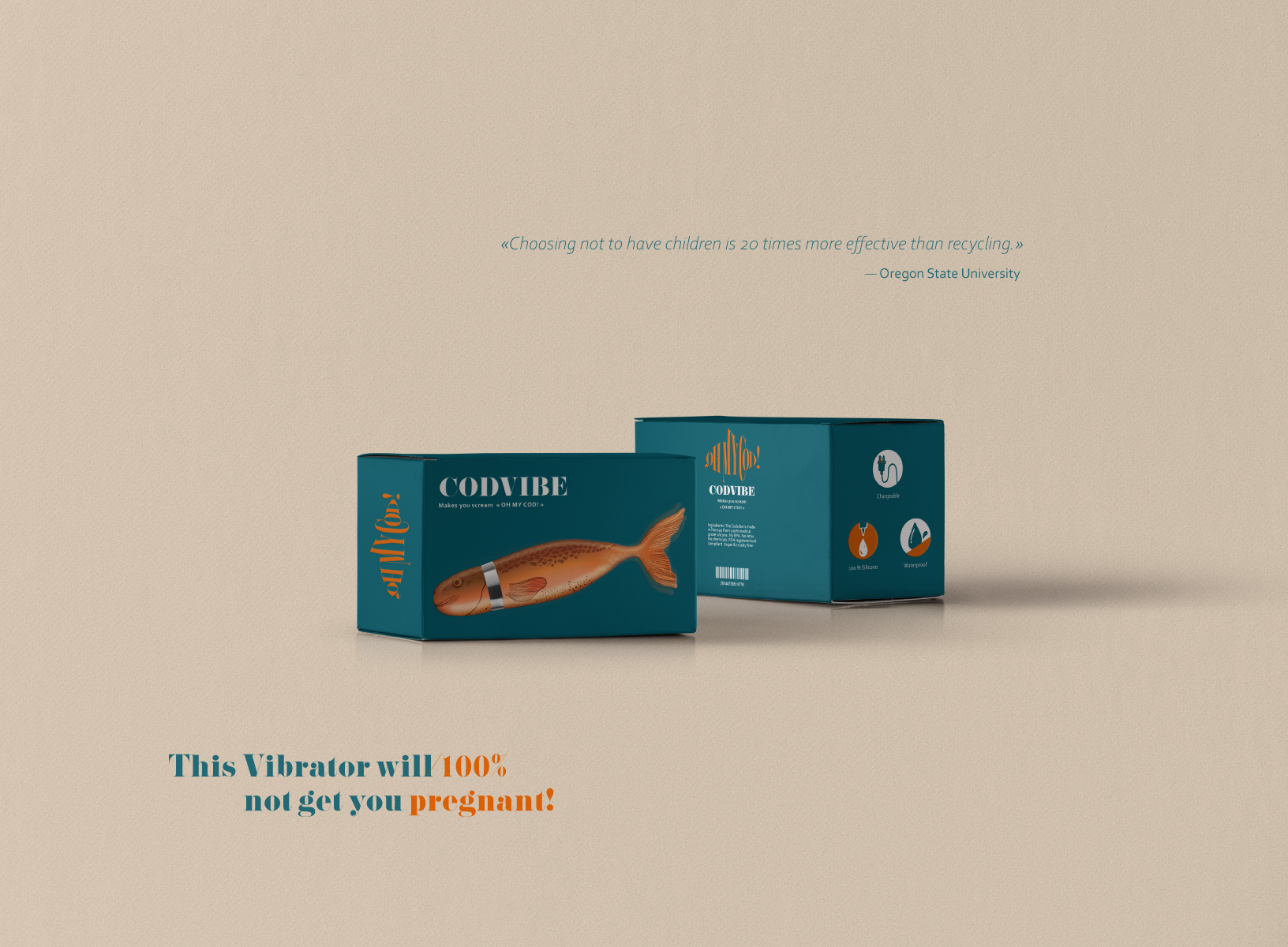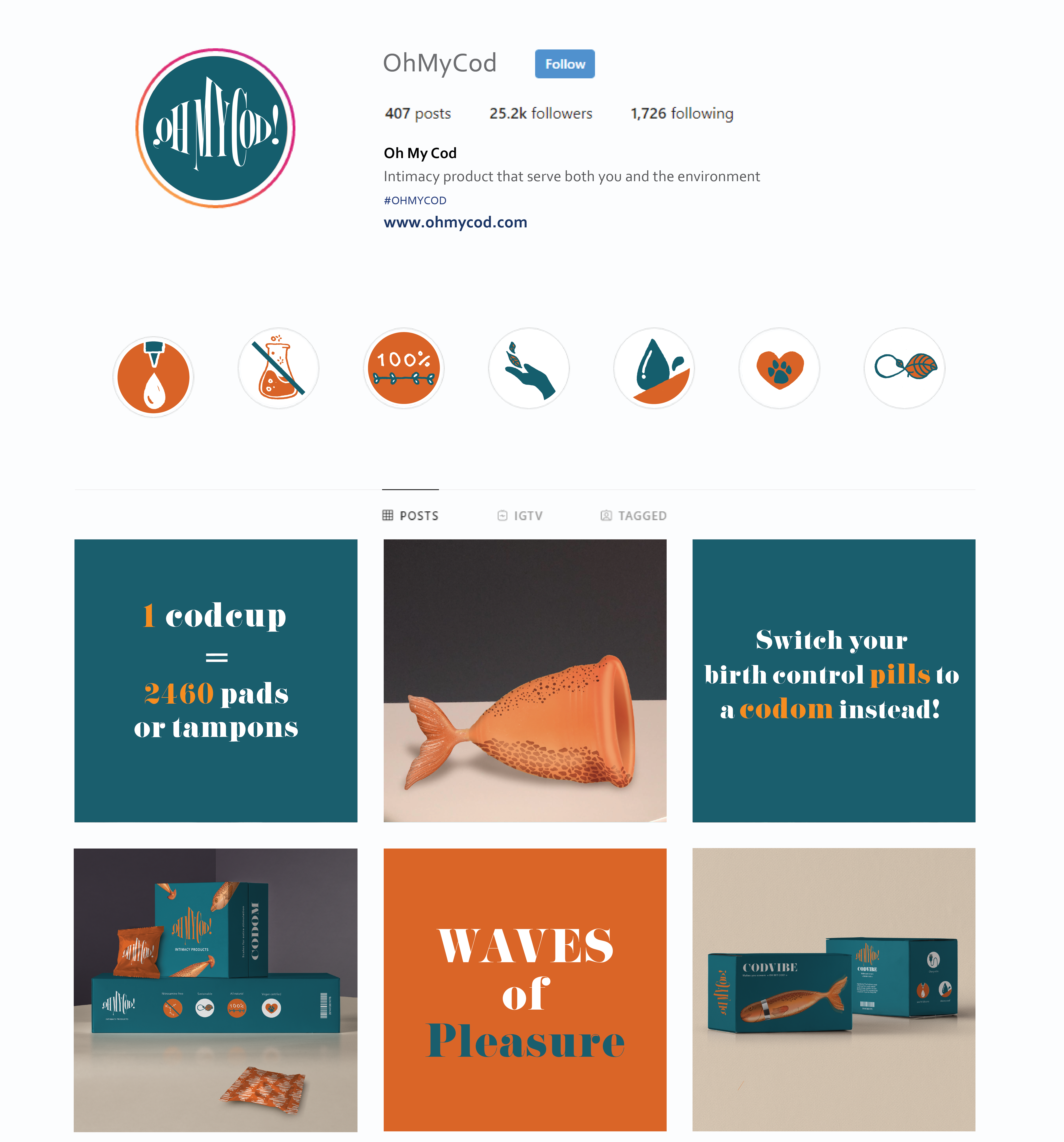 Why the cod?
Cod is a bioindicator species. Bioindicators are the organism that indicate or monitor the health of the environment.
This project is inspired by a fictional company and movement (Rayfish.com) that takes a rather unusual and extreme idea, brings it to the utmost and makes it seem realistic and genuine, to create reactions and bring forth a debate.
Codcup:
Tampons, pads and panty liners along with their packaging and individual wrapping generate more than 200,000 tonnes of waste per year, and they all contain plastic.
Solution: Codcup
Codom:
Like all the other medicine we put into our bodies, birth control pills is never completely destroyed. The artificial estrogen they contain, flushes out in our toilets and reaches the sea. This estrogen has major consequences for the fish, resulting in intersex, meaning male fish develop ovaries and produce eggs.
Solution: Switch to a Condom instead.
Codvibe:
According to a study by statisticians at Oregon State University, choosing not to have a child is 20 times more effective than recycling.
Solution: Codvibe
Here, we have listed a number of relevant articles dealing with silimar challenges today:
• Viklund. K, Förlin, L, Larsson, J (2005), Fiskar andas våra p-piller, HavsUtsikt 3. Available from:

https://www.havet.nu/dokument/HU20053hormon.pdf

[20 September 2019].
• Campbell, M (2019), Eco-friendly sex life: are condoms good for the environment?, Euronews, 8 August. Available from:

https://www.onlynaturalenergy.com/eco-friendly-sex-life-are-condoms-good-for-the-environment/

[20 September 2019].
• Sustain Natural (2019), Ultra thin condoms. Available from:

https://www.sustainnatural.com/products/condoms

[24 September 2019].
• Fleming, A (2019), 'Environmentalists are horny right now': how to make your sex life more eco-friendly, The Guardian, 2 April. Available from:

https://www.theguardian.com/lifeandstyle/2019/apr/02/environmentalists-are-horny-right-now-how-to-make-your-sex-life-more-eco-friendly

[24 September 2019].
• Team OrganiCup (2018), Powerful Environmental Reasons To Switch To A Menstrual Cup, OrganiCup, 20 April. Available from:

https://www.organicup.com/nb/blog/powerful-environmental-reasons-to-switch-to-a-menstrual-cup/

[24 September 2019].
• Nair, C (2016), Bioindicators Species and their uses in Biomonitoring, Dept. of Environment Science, 5 June. Available from:

https://www.slideshare.net/chitranair16/bioindicators-ppt?fbclid=IwAR1YU8mOLFvYaIWY2T-ieoLO0SJw8PeM1T5suMvdY_Bw9s-rp94usinJpIA

[20 September 2019].
• Murtaugh, P (2009), Family planning: A major environmental emphasis, Oregon State University, 31 july. Available from:

https://today.oregonstate.edu/archives/2009/jul/family-planning-major-environmental-emphasis

[24 September 2019].